Types of Cannabis Concentrates
Cannabis concentrates are as diverse as they are potent. There are so many different types of concentrates, sometimes it hard to keep them all straight.
From kief to oils, hashish to shatter, it can be overwhelming to consider trying them, or how to smoke concentrates when you aren't even sure which is which.
So, what are concentrates?
How are cannabis concentrates made?
How are concentrates, oils and extracts different?
How much do concentrates cost?
Types of Concentrates
What is a concentrate?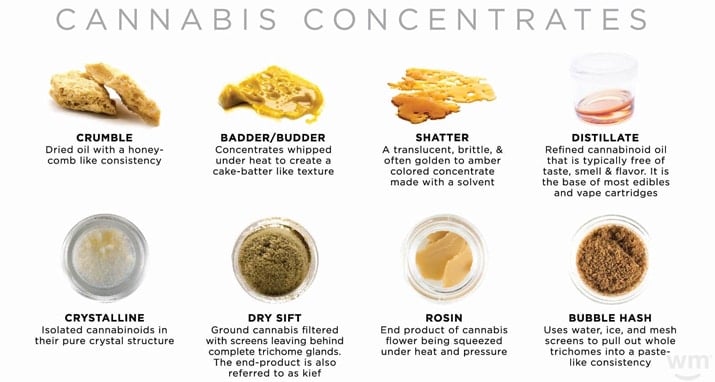 Solvent-based and solventless marijuana concentrates are products that have been created from the cannabis plant and are much more potent than just flower alone.
What is a solvent based extract or solventless cannabis concentrate?
Well, some concentrates call for a solvent, such as CO2, butane or alcohol, in order to extract the THC and other valuable cannabinoids and terpenes.
If a concentrate utilizes a solvent to be created it is referred to as an extract. Other concentrates require no solvent and these are referred to solventless concentrates.
All extracts are concentrates but not all concentrates are extracts. While different types of cannabis concentrates might seem to run together, they are each quite distinctive.
There are numerous types of concentrates and extracts and new ones being developed all the time.
Kief, hash, rosin, tinctures, oils, shatter, pull and snap, wax, budder or badder, crumble, honeycomb, distillate and crystalline are the concentrates we will focus on.
Continue reading "Cannabis Concentrates Guide: THC Oils, Hash, Wax, Shatter & Dabs" →